KK New prodects development
Main Features of The Model ST-28 to ST-280
It saves approximately 55% floor space in comparison with conventional press.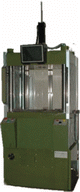 Save more space (example: ST-125) .
A breakthrough in the design of hydraulic systems that enable the press to operate with less electrical power averaging only 1.5kw. Oil recirculates at the rate of 1.5 lpm. The oil reservoir is less than 140 liter in capacity. This volume is around 1/2 to 1/3 of conventional systems. The corresponding cooling water flow rate is also reduced to 5 lpm, about 1/5 to 1/8 of traditional values. Our unique advanced hydraulic circuit and advanced light weight hydraulic components eliminate many obsolete assemblies with heavy weights. This results in the reduction of floor loading 500-3500kgs, thus improving building safety.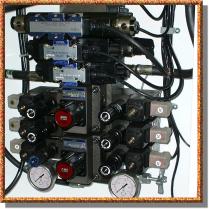 Oil hydraulic (example: Trans. 2 stage) .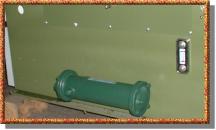 cooling water about 1/5 to 1/8 of traditional values.
Touch screen operation. All setting are operated on Touch Screen. No key board, no memory functional key are needed.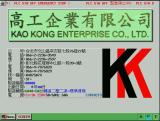 10.4" 256 colors TFT TOUCH SCREEN
Touch screen operation panel with data storage for 245mold cycles (production time, pressure, transfer timer, heating timer, mold temperature, production condition…etc). Let technician or Q,C. engineer modify or calibrate the optimistic production parameters to get highest quality requirements. Touch screen panel also provide pressure and temperature curve for easy stability checking.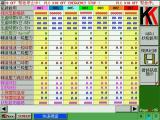 Touch screen operation panel with data storage for 245mold cycles .
Touch screen provide read and write information for 10 molds which is inclusive of pressure setting, temperature setting, transfer timer and heating timer setting for technician to change a mold.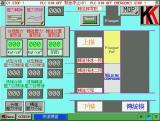 Pressure data setup scrren.
Touch screen provide the error message with moving indicating that is very convenient for technician to do repair and maintenance. And, alarm system is equipped for some kind of error message.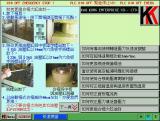 Help & Maintenance Screen.
Mold cleaning cycle time, process cycle time are all indicated with 4 digit meters accurate to 0.1 sec.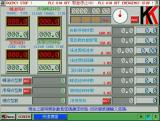 Timer data setup screen.
This system had been under development for many years. Significant time and effort were spent qualifying parts to be used under performing pressure resistant test and life test on the press.
The following are questions most users of the new press ask with compliment:
<1> How is it possible to operate the press with so little power?
<2> How much electrical energy can be saved by the new hydraulic system?
<3> We are amazed at how much space can be saved by your molding press!
<4> It is a great idea to use "average value" for heating elements! We save a considerable amount of energy.
<5> We have never seen such a smooth mold closing process.
<6> Soft mold closing is approximately 50kg-300kg depending on the condition of the mold. The clearance between the mold surfaces is normally less than 0.05mm. This accuracy is not attainable with conventional hydraulic system.
Here are answers for some of the questions raised.
<1> How does the new press save energy?
We know that hydraulic power is proportional to the product of pressure and flow rate. As the mold closes, the control circuit reduce the flow rate automatically. During the low speed advance, power consumption is limited to 2.2kw at a flow rate of 1-2 lpm. When the mold is closed, the power consumption drops to 2kw. The no-load power consumption is 0.8kw. In IC manufacturing process, the molding press remains at the closed condition most of the time, during which the hydraulic system is at a state of high pressure but low flow rate at 1 lpm. Consequently the power consumption remain most of the time at a level less than 2kw.
<2> How to calculate savings in electrical consumption.
Please refer to the following table:
| | | |
| --- | --- | --- |
| Mold | Hydraulic power consumption | Nominal power capacity |
| New KK ST-200 | 2.2KW | 3.0HP |
| Conventional KK T-200 | 5.5KW | 7.5HP |
| Conventional Import 200T | 11.0KW | 15.0HP |
1 set A= ( ) KW* hours worked per day x days worked per month* % of time mold is in motion* $ per KW
1 set B= ( ) HP * $ per Horse Power per month
Total energy expense = A + B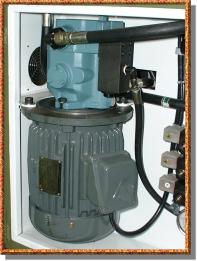 Motor power only 3HP.
<3>Using "average value" method to heat up the mold has the following advantage:
(A) Voltage remain low all the time.
(B) Temperature variation is much less. It might be controlled to ±3℃ or less. This also greatly improve temperature uniformity across the mold surface.
(C) It extends the life of heater elements.
(D) It eliminates the possibility of unbalanced 3 phase circuit from interfering with the temperature control.
Temp. control
Method mode

"Average value"
SCR
Temperature control

SSR

RELAY

Fully load Percentage

Impossible,
it is average value

100%

100%

Average Value

30%∼50%

Impossible
On/off action

Impossible
On/off action

Nominal Horse Power

30%∼50%

100%

100%
<4> Because the flow rate of hydraulic fluid is only 1.5 lpm. more advantages can be realized.
(a) Reduced cooling water requirement.
(b) Less quantity of used oil to be processed and disposed of, a good thing for the environment.
(c) Less frequent oil change, thus reducing operating cost
We sincerely hope that our report above has convinced you to consider our press for your production needs. During our development and design we have thoroughly considered and overcome the following challenges:
1. Reduce floor space requirement
2. Minimize energy consumption
3. Protect the environment
Tom Lai